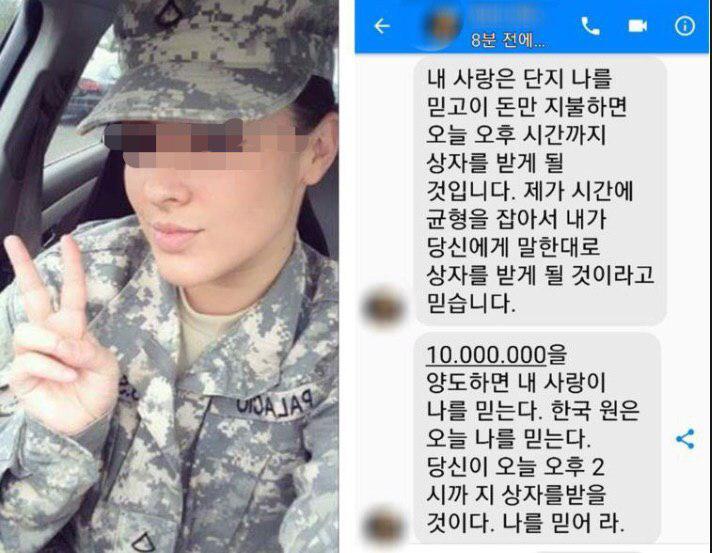 A scammer from West Africa poses as a US soldier to extract money from victims by exploiting their loneliness. (provided by Seoul Metropolitan Police Agency)
"I'm a US general who has been deployed to Iraq. My wife and children died in a car accident. I'll send you a reward and money, and we can live together."
In April of last year, a 57-year-old unmarried South Korean woman identified by the initial "K" received a KakaoStory message from "Steve," who identified himself as a US soldier. As K and Steve exchanged messages over KakaoTalk mail, the two became close. Steve even shared a scan of his ID with K over the service. As they grew closer, Steve proposed marriage.
"My wife and children all died in a car accident, and I want to live with you," he told her. He also promised to send his assets to South Korea along with a reward, suggesting that the two of them could use the money to live together.
In a subsequent message to K, Steve wrote, "I've contacted a shipping company to transfer my assets to South Korea. I need you to send the shipping fees to cover it." K proceeded to send multiple transfers to Steve's account, ranging from several million won to as much as 90 million won (US$79,307). That June, the KakaoTalk messages from Steve suddenly stopped. She heard nothing more from him. Over a period of two months, she had sent him a total of 430 million won (US$378,851).
On Apr. 2, the external investigation division of the Seoul Metropolitan Police Agency (second international crime investigation squad) announced the arrest of seven members of the international fraud organization Scam Network, including a 40-year-old Nigerian who served as head of the South Korean chapter and a 64-year-old South Korean citizen identified by the initial "N." They were charged with violating the Act on the Aggravated Punishment, etc. of Specific Economic Crimes for allegedly using "romance scam" tactics to extract a total of around 1.4 billion won (US$1.23 million) from K and 22 others.
"Romance scams" over social networking platforms
A romance scam is a form of emotional fraud in which an individual uses social networking services (NIS) to approach and befriend someone and then extracts large sums of money from that person. According to police, the individuals in question were based in West African countries including Nigeria and Ghana and perpetrated their crimes in places including South Korea, China, Hong Kong and India.
Based on police accounts, the suspects used typical scam techniques to commit the crimes, using Facebook, KakaoTalk and other social media services to approach and befriend victims before demanding money from them. Between August 2017 and June 2018, the suspects approached victims on platforms such as Facebook or messaging services such as KakaoTalk, introducing themselves as a "US soldier who received an award from the Syrian government" or a "US diplomat who received a large inheritance," police said. After using these methods to befriend the victims, they demanded the payment of airfare, customs fees and storage costs for the transfer of their assets to South Korea, which they had wired to borrowed-name accounts. Police are currently working to track down nine other scammers, including the director of the Nigerian headquarters, and are estimating actual damages as being in excess of 10 billion won (US$8.8 million).
The suspects used carefully plotted tactics, spending anywhere from two weeks to one year establishing closeness with the victims. Using false names such as "David" or "William" and presenting themselves as soldiers with US citizenship, they approached the victims under calm, carefree guises, typically sharing details about their lives in the location given. The suspects proceeded to get closer to the victims by asking questions designed to reveal personal details and having conversations on topics that might interest them. Victims also reported the use of business scam tactics, including suspects who introduced themselves as working for an oil rig and asked for a loan at 30% interest to cover repairs to hurricane damage on their drill and pipes, only to vanish after receiving the money.
After extracting payments, suspects would immediately disappear, transferring the money by MoneyGram to locations like Ghana and Nigeria. A money wire service, MoneyGram allows users who register their country, name, address and password to receive funds from overseas after confirming their identity and password.
According to police, the suspects spent longer and longer times in South Korea committing the crimes while traveling back and forth from their home country beginning in 2012.
Five of seven suspects have submitted refugee applications
"Of the seven people detained, the remaining five besides the one South Korean national and one Nigerian with South Korean citizenship have all submitted refugee status requests," a police official said.
"They adopted a repeated approach of buying stay time with refugee applications, then leaving South Korea once their suits were over and returning on tourist visas to perpetrate their crimes," the official added.
Police noted that lonely middle-aged individuals were especially vulnerable to the scamming methods.
"People need to be cautious and make sure to check when they're wiring money to foreigners," the police said.
The police also announced plans to "request a collaborative investigation with Nigeria and other West African countries through Interpol and other channels."
---
Tags: overseas scammers, wire money, foreign accounts, soldiers
---